Mug Gustav 0,31 l, The Three Graces + gold, Carlsbad
Frequently Bought Together
Description
About brand Carlsbad and Queens Royal
---
Two small Czech manufacters from the neighbourhood of the city of Carlsbad aiming niche parts of porcelain market with rich Cecily roses or The Three Graces decors.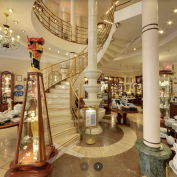 Are you hesitant to buy?
Come and see the goods in our 3-floor Porcelain House. On 450 m2 you will find over 10,000 different pieces of porcelain and only trained salesmen will take care of you.