Magic of Nature 175 x 130 mm, Crystal Gifts and Decoration PRECIOSA
Description
About brand Křišťálové figurky PRECIOSA
---
The World of Crystal
Inspirations
We are a leading international glass manufacturer. For decades we have brought, and continue to bring, new blood to the art of glassmaking through creative ideas, colour and our brilliant glass and crystal components. We design one-of-a-kind, awe-inspiring chandeliers and elegant jewellery. People in over 140 countries worldwide admire our craft.
The Original
Birthplace of Bohemian Crystal
There is only one place on earth – Crystal Valley – where over 470 years of glassmaking tradition, unique natural resources, and the love of glass come together. More than 300 years ago, Crystal Valley gave birth to Bohemian Crystal. Soon after came the first cut and polished stone in the world, the first majestic chandelier, and the tiniest of treasures, the glass seed bead. It was also here that man first created magical, sparkling, ever-enduring crystal jewellery.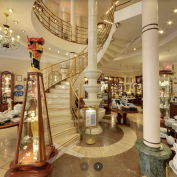 Are you hesitant to buy?
Come and see the goods in our 3-floor Porcelain House. On 450 m2 you will find over 10,000 different pieces of porcelain and only trained salesmen will take care of you.