Tea set for 6 persons, Sabina, cobalt blue plus gold, Leander 1907
Tea set for 6 persons, Sabina, cobalt blue plus gold, Leander 1907
Frequently Bought Together
Description
About brand Leander 1907 Loučky
---
Czech porcelain manufacturer Rudolf Kämpf has been producing high-quality hard-paste porcelain for more than 100 years. Hard-paste porcelain stands out for such properties as hardness, resistance to high temperatures and acids, low permeability, transparency and resonance, in contrast to bone china that many European porcelain factories have switched to. Another Rudolf Kämpf's characteristic feature is preservation of handcraft. Today many producers rely on automation, while Rudolf Kämpf remains the only porcelain manufacturer in Czech Republic devoted to creating superior porcelain items by hand. Hence it guarantees exclusivity of its products. Rudolf Kämpf porcelain is manufactured in limited editions or one-off items. Such approach makes this porcelain items iconic.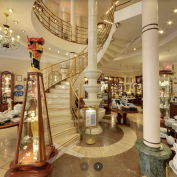 Are you hesitant to buy?
Come and see the goods in our 3-floor Porcelain House. On 450 m2 you will find over 10,000 different pieces of porcelain and only trained salesmen will take care of you.