Lamart: The Cock Teapot, 16,5 cm, Italian Porcelain Lamart
Lamart: The Cock Teapot, 16,5 cm, Italian Porcelain Lamart
Description
About brand Lamart
---
Lamart is an Italian manufactory brand of decorative and dining porcelain and home accessories with a long tradition since 1971. They are known around the world for the high quality of their products and original design. The Lamart manufactory produces a lot of seasonal product collections, such as the Christmas collection or the Easter collection of Cocks.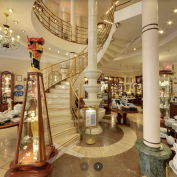 Are you hesitant to buy?
Come and see the goods in our 3-floor Porcelain House. On 450 m2 you will find over 10,000 different pieces of porcelain and only trained salesmen will take care of you.