Bowl triangle 18 cm, Ophelie Hazenka, Moritz Zdekauer 1810
Description
About brand Stará Role
---
Well known porcelain with MZ bottom sign (est. 1810) went last and defenetly bankrupt in November, 2018. Large unsold stocks are still being available. Manufactoring of some popular forms continues in neighbouring Carlsbad factories.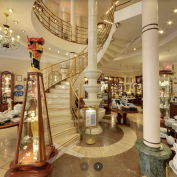 Are you hesitant to buy?
Come and see the goods in our 3-floor Porcelain House. On 450 m2 you will find over 10,000 different pieces of porcelain and only trained salesmen will take care of you.